Meeting Room Scheduler Software
Return to work with hybrid workplace model
Power your needs with smarter digital workplace solution. Enhance your space utilization, unify your sites and simplify your work experience.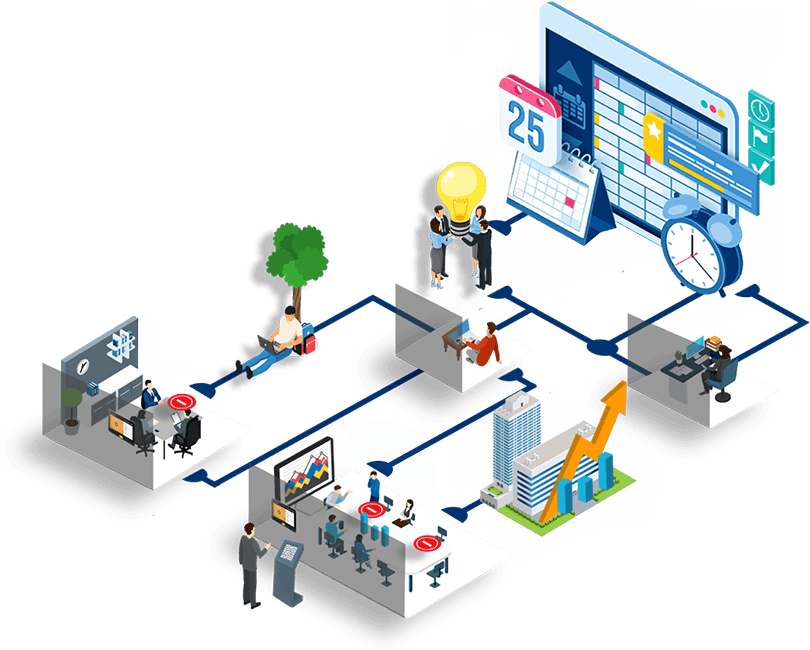 flexible workplace management
We make sure that your day to day
hurdles are now effortless
Empower employees to reserve workplace of their choice at anytime from anywhere. 
Easily book rooms of required features and free up unused space through auto-release.
Welcome your guests with automated check-in experience while keeping everything safe. 
Manage scheduled and targeted data communication to keep employees updated
Ask no one &
explore your campus with us
Enjoy exploring the resources around campus with us. With DigitalBricks you get to know the places in the office campus and you need not wait for anyone.
smart workplace experience
The best of DigitalBricks
DigitalBricks desk management has all features that can help you have a wonderful working experience.
Effectively manage your organization's workplaces with our user-friendly desk booking system. The scalable and cloud based digital solution provides the flexibility for employees to easily plan work from home and office days in advance.
Plan ahead and schedule space in advance in recurring manner. 
Interactive
Campus wayfinder
Find all the campus resources on map and navigate you easily. 
Flexible office display &
Status displays
Flexible office displays have various & interactive viewports.
Request to release
Abandoned spaces
Abandoned spaces are retrieved by requesting a release. 
Instantly check-in to meeting room by scanning QR code. 
Neighbourhood and
Space policies
Restrict entry with space policies and neighbourhood.
Now swap your work with colleague
While employees distributed in-between work from home and office planning within the team is necessary. Now if incase of emergency you can always swap your working with your colleague on a single tap.
Now find and book spaces, manage check-in, or cancel meetings wherever you are and from any device. The solution finds ideal rooms based on features, location and invitees. We know what works the best for you
Check invitee's
Attendance real-time
Check real-time availability status of invitees for meeting. 
Intelligent room suggestions based on the invitees 
Instantly check-in to meeting room by scanning QR code
Meeting room
Availability on floor map
Check real-time availability status of meeting on floor map.
Instantly book
Meeting room
Instantly book meeting rooms for specified time duration. 
Features, capacity and
Seating style of room
Meeting room features, capacity and seating style are detailed.
DigitalBricks plan Your day ahead
We regularly track your schedules and plan ahead of your booking suggestions. Parking slots and availability are traced according to your working location everyday and make sure that your time is saved
visitor management system
We have modernized the front desk experience with a badge printer to welcome your guests providing an all-in-one check-in experience. The cloud-based system ensures your visitor are informed with an access PIN or QR code for instant check-in without filling any forms.
The internal & external communication solution provide a number of customizations, features for the users to achieve an effective communication. The constant engagement of the targeted viewers eventually increases the chances to win customers back to your facility.
workplace analytics & insights
Insights to build you workplace strategies
DigitalBricks collect all your workplace utilization data & export it into easy to read & useful reports that can help to build better business strategy
Abandoned meetings are found and tracked to eliminate under utilized spaces
Peak visiting hours
On the frond desk
visitors entry and exits are tracked and registered with all details. the reports are made as exportable files
The employee availability and productive desking hours are reported location/department wise
Space utilization
on various zones
Space utilization reports take essential part in optimizing the annual real-estate cost
Power up your workflow with us & Increase productivity by 30%
Ready to transform your workplace !!