Desk and Room Booking Software
Our easy to use, ground breaking, innovative capabilities on AI based conference room experience, smart desk booking experience, visitor management system, digital signage and space utilization technologies provide you truly unique solutions to your workspace challenges anytime, anywhere across the globe.
Smart Desk Management System
Our user friendly desk booking system can help organizations around the world creating flexible workplaces to suit a mobile workforce. Our solution can be accessed from your web browser, mobile, intelligent interactive Kiosk in the office anytime, anywhere; offering an integrated solution to managing bookings and providing wayfindings.
Interactive Kiosk

Workspace booking at your fingertips.

Find where colleagues are sitting.

Easy identification with QR code verification. Desk is ready to be utilized

immediately.

 

Easily free up unutilized desk.

 

Insights help you optimize your workspace.

 
Smart Wayfindings
Our smart interactive floor maps help you lo

cate your teammates, way to your desk and 

find available desks quickly.

 
Smart Solutions
Now, easily find an available desk from our app or Kiosk and log in using the QR code and start working immediate

ly. Turn on the electricity, 

air con

 and customized light

 in your desk area. 

 

Track daily workspace usability and 

employee productivity 

from smart dashboard report.

 
Monitor, measure and make the best use of every meeting room you have from any location or any device you have. Take the hassle out of room booking and meeting analysis with our fully scalable, automated, cloud-based, digital solution. Transform your conference experience once and for all.
Meeting Room Screen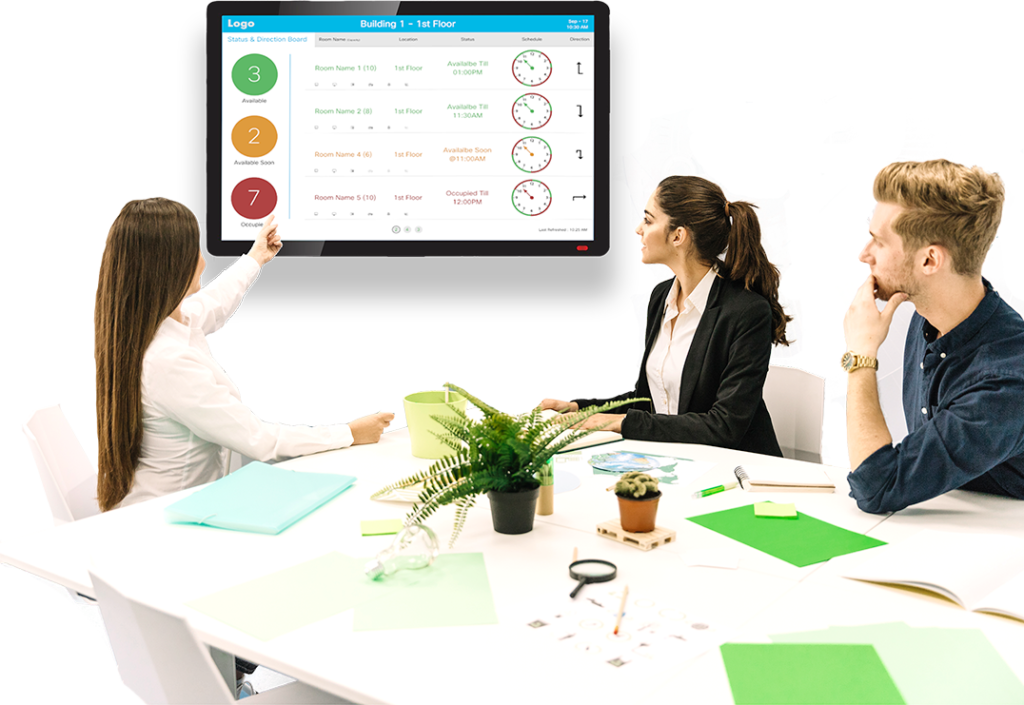 Get

 valuable mee

ting details like- 

starting time

, ending time

, meeting room capacity, room equipments and others.

 

See availability of rooms from the LED screens.

 

Easy meeting extension or check out process.

 

Optimize your meeting space and quickly cancel no-shows.

 
Wayfindings
Find meeting rooms from our smart interactive floor maps quickly.

 

Enhanced visitor support and over all experience.

 
Visitor Management System
Transform any visit into a first class experiences by providing personalized greetings across all touch points throughout your visitors' journey. Our advanced visitor management software driven by advanced intelligence; enabling customer experience to boost your brand and identify cyber attacks by providing 360 degree report.
AI driven cloud based digital signage solution for seamlessly managing your digital displays. Our Interactive digital signage, the emerging communication platform can arouse customers' interests and keep them more involved.
Our advanced AI based smart solution provides you 360 degree holistic approach to your workspace and creates a daily report chart of office space utilization, room utilization, floor utilization, energy utilization, visitor incoming and outgoing report, work efficiency report or daily performance dashboards which enables you to make an appropriate decision of your workspace utilization.
Ready to transform your workplace !!